03 May

10 Best Laser Designs for Mother's Day Gifts (With Free SVG Files)
10 Best Mother's Day Laser Designs
Mother's Day is a special occasion that deserves to be celebrated in a unique and memorable way. If you're looking for some inspiration to make this day extra special for your mother, you definitely found the right place. Design Market has curated 10 authentic Mother's Day laser designs that are guaranteed to impress your mother. You can find all these fabulous laser designs in Design Market

Mother's Day Collection

. 
For Moms Who Love Flowers
Mother's Day is never complete without flowers. Design Market is proud to offer a selection of flower designs that are not only adorable but also surpass the beauty of real flowers. You can easily turn those floral designs with sincerity into a perfect gift through various materials. Let's meet those beautiful floral laser designs.
Modern Geometric Flower Vase:
Designed with 6 different flowers, comes with a range of adorable little plants to mix and match. Choose the perfect combination for a personalized gift that will brighten up your mom's mood.  And what better occasion to give such a thoughtful present than Mother's Day? This vase is not your ordinary flower container. Its unique design makes it a statement piece that can blend with any home decor style. It can stand alone as a decorative item or be filled with fresh flowers and plants to create a stunning centerpiece that will draw attention. This file is now FREE on Design Market, don't miss out, get it now!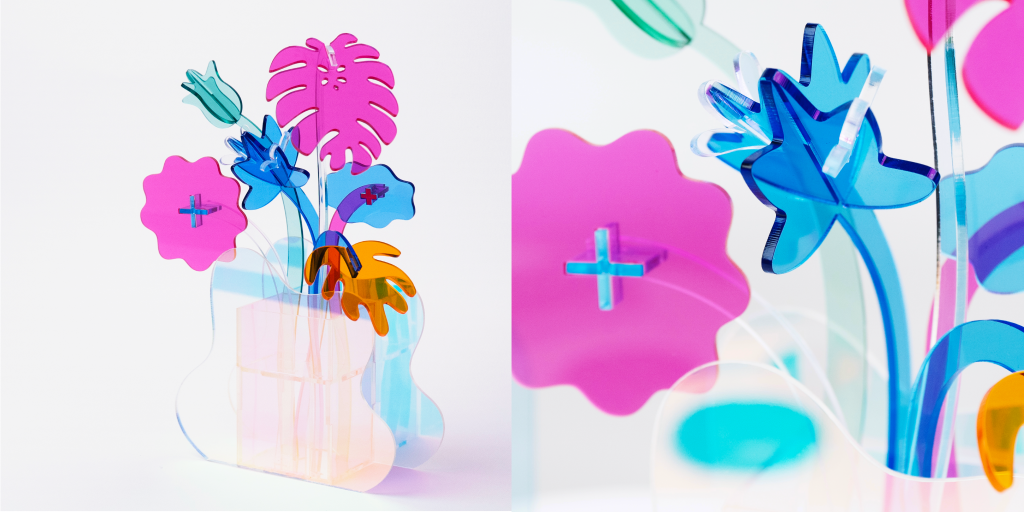 Vintage Rosebud:
Looking for a timeless and romantic gift for your mom? Look no further than the Vintage Rosebud! Each bud features multi-layered designs that make it look like a real flower. The use of high-quality materials such as wood, acrylic, and paper ensures that the bud will stand the test of time. Don't miss out on this fabulous design! Visit Design Market to get your hands on the Vintage Rosebud today and show your mom just how much she means to you.
For Moms Who Love Reading
If you're looking for a way to show your book-loving mom just how much you appreciate her, these two laser designs could be the perfect way to express your love to your mom.
Mother's Day Bookmark :
 Introducing the perfect gift for moms who love to read! This practical gift is the perfect way to keep your mom's place in her current read, and the personalized design makes it a thoughtful and sentimental keepsake. With over 11 different fonts and designs to choose from, you can mix and match to create a completely customized bookmark that your mom will love. Download this bookmark file now and give your mom a gift that she'll treasure for years to come.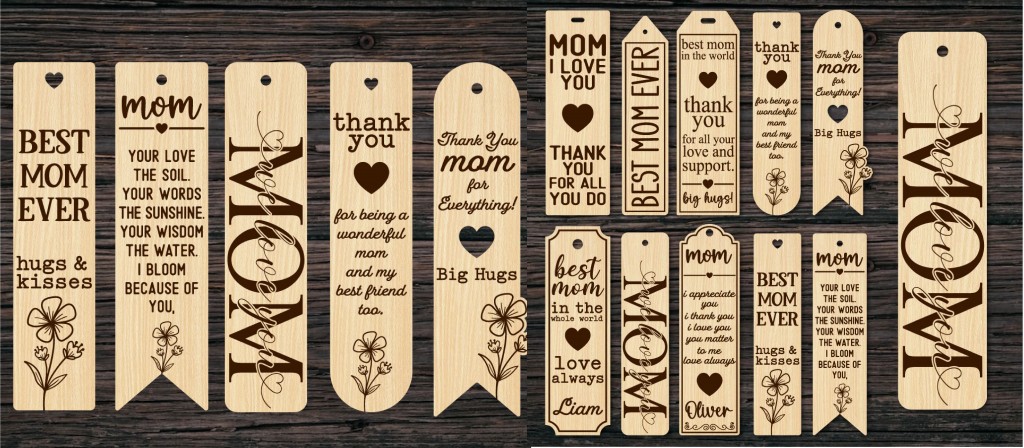 Wood Bookend:
Here's another perfect laser design for your book-loving mom. This bookend design is not only functional but also stylish and personalized. With a thick edge design, it can easily hold even the heaviest of books, keeping them organized and in place while adding a touch of elegance to your mom's bookshelf. It's the perfect way to show your mom how much you appreciate her love for reading and help her keep her favorite books in order. Download the Laser Cut Wood Bookend file now and give your mom a gift she'll love!
If your mom is an avid baker, then Design Market has the perfect selection of laser designs to help you create a personalized gift that she will love. From food trays to spice jar holders, these designs will for sure target your mom's preference. Browse our selection and give your mom a gift that will make her smile every time she's in the kitchen.
Kitchen Conversion Chart:
Make mealtime special for your mom this Mother's Day with these two functional dining trays. These trays feature an exquisite font design and cute doodles that will surely delight your mom. They are not only perfect for serving meals but can also be used as decorative pieces in the kitchen or dining area. Your mom will surely appreciate the thoughtful and practical gift that will make her daily routine a little bit easier and more enjoyable. Download these dining tray files now on Design Market.
Spice Jar Holder : Here's Another functional gift choice for you to delight your mom. This holder is designed with an intricate doodle pattern that adds a touch of whimsy to your mom's kitchen. You can choose a high-quality wood that is durable and long-lasting, making it the perfect addition to her kitchen. With multiple compartments, it can hold all of her favorite spices, making it easy to find and use them while cooking. 
Design Market also offers a variety of fabulous designs for moms who are wine lovers. Whether you're looking for an elegant wine holder or a humorous alcohol box, we have plenty of options to choose from. Check out these designs now and give your mom the gift she deserves! 
Wine box lighthouse:
Are you still struggling to decide on a special Mother's Day gift? Why not consider a beautifully crafted wine box with a stunning lighthouse design? This intricate design will add a touch of elegance to any wine bottle, making it a fantastic addition to your mom's wine collection. Not only that, but the added sincerity of being handmade will show your mom just how much you care. Download the Wine Box Lighthouse Laser Cut SVG files and surprise your mom.
Wine and Glasses Rack Bicycle:
How about a bicycle that holds wine and glasses? This Wine and Glasses Rack Bicycle Laser Cut SVG files are the perfect way to add a touch of whimsy to your mom's wine collection. This playful design is sure to bring a smile to her face every time she pours a glass. Plus, the added convenience of having a wine and glasses holder attached to a bicycle means your mom can easily transport her wine and glasses wherever she goes. Download our Wine and Glasses Rack Bicycle Laser Cut SVG files now and give your mom a gift that's both fun and functional!
For Moms Who Love Keeping Memories
Natural Style Vine Photo Frame Bundle: With its adorable organic vines and leaves, it's the perfect way to frame your most precious memories with your loved ones. Not only is it a great addition to any home decor, but it's also an excellent way to show your mom how much you care. This photo frame bundle is now free on Design Market, don't miss out on this fantastic opportunity to download them.
"Love You, Mom" Mother's Day Card:
You could hardly go wrong with picking this "Love You, Mom" card for Mother's Day this year! With seven different floral designs combined into one, the card's cover exudes a playful and cute vibe, and it can be effortlessly put together using just two different colored papers. Download and start making it now to express your heartfelt appreciation to your dear mom!
After considering these 10 laser designs for Mother's Day gifts, don't stop your search there. Design Market has a vast selection of distinctive designs for this occasion, including personalized decorations and kitchenware. With such a wide range of options available, you're bound to discover the perfect gift that suits your mother's tastes. By presenting her with a handmade and personalized gift, you can convey your appreciation and affection for her in a significant manner. Head over to Design Market today and download the ideal laser design for your mother!