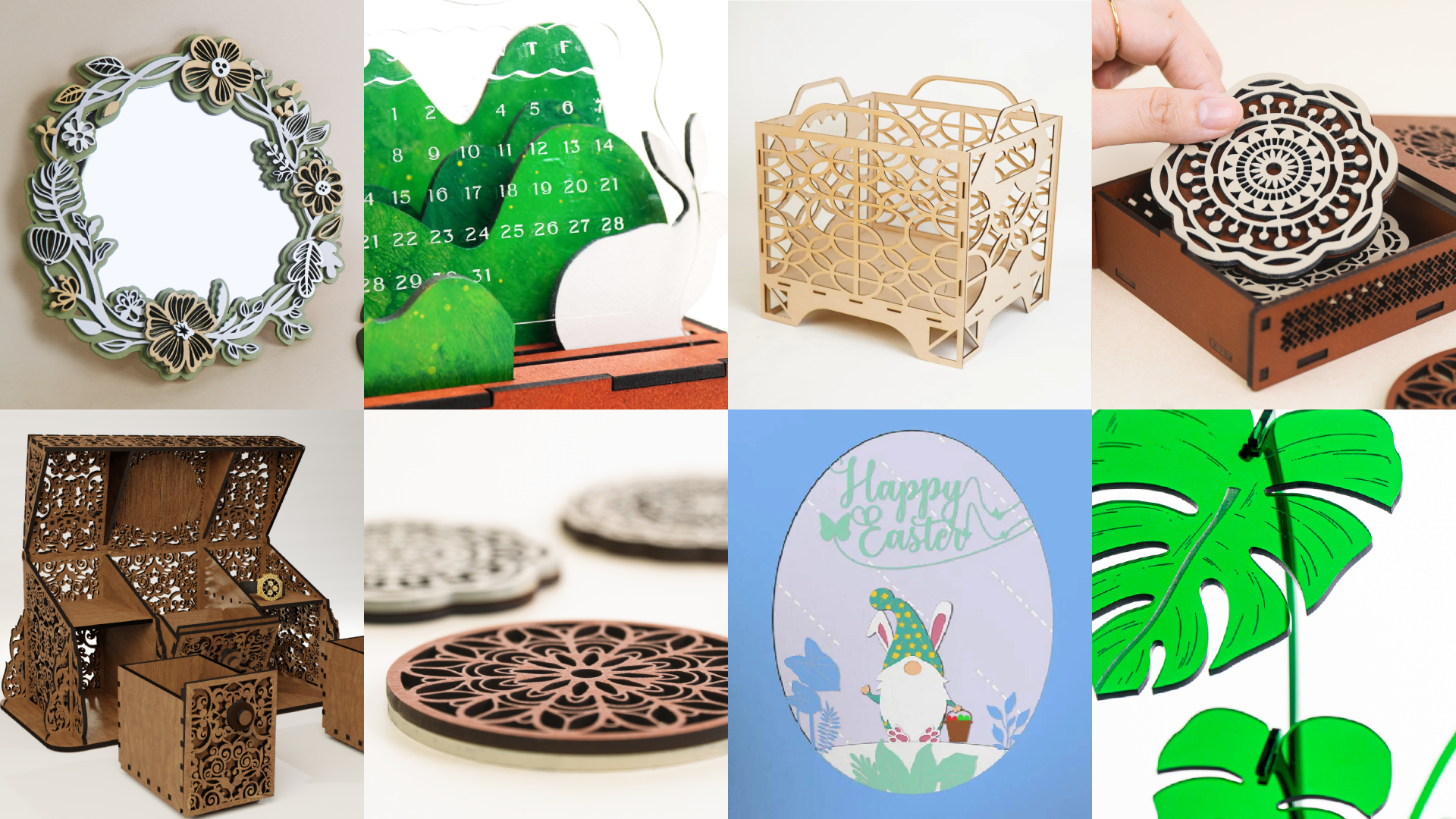 30 Mar

8 Spring Home Decor Laser Design Ideas in 2023 With Free SVG Files
Spring is a time of renewal, a season for the soul to bloom and shed the shadows of winter. What better way to welcome this new beginning than with a laser-cut project? To create the perfect spring home decor, it's important to focus on patterns and materials. The biggest design trend for spring 2023 is incorporating floral and botanical designs into home decor, from wall art and picture frames to lampshades and coasters, laser-cut floral designs are a great way to add a touch of nature to any room in the house. Take a look at Design Market to discover a variety of spring-inspired laser designs that capture the essence of the season.
Spring Home Decor Inspirations
To help kickstart your spring creativity, we have compiled a list of 10 laser-cut design ideas that will brighten up your space and uplift your mood. These simple yet effective decorating ideas are sure guaranteed to infuse any space with the spirit of the season. We have also included two free spring-themed design files for you to download. With the included design files, you can easily customize these designs to suit your unique style and taste. Follow our footsteps and head into this season of renewal!
1. Create a Garden Oasis In Your Bathroom
Are you looking for a way to transform your bathroom into a relaxing spring garden? With the ideas we offered to you, you can bring the beauty of nature into your bathroom in a unique and creative way. Here are two stunning designs to consider:
Multi-Layered Floral Mirror – This mirror design features delicate floral patterns in multiple layers. The layered effect adds depth and dimension to the mirror, making it a stunning statement piece in any bathroom. The floral designs can also bring a sense of calm and tranquility, as well as a touch of spring to your bathroom.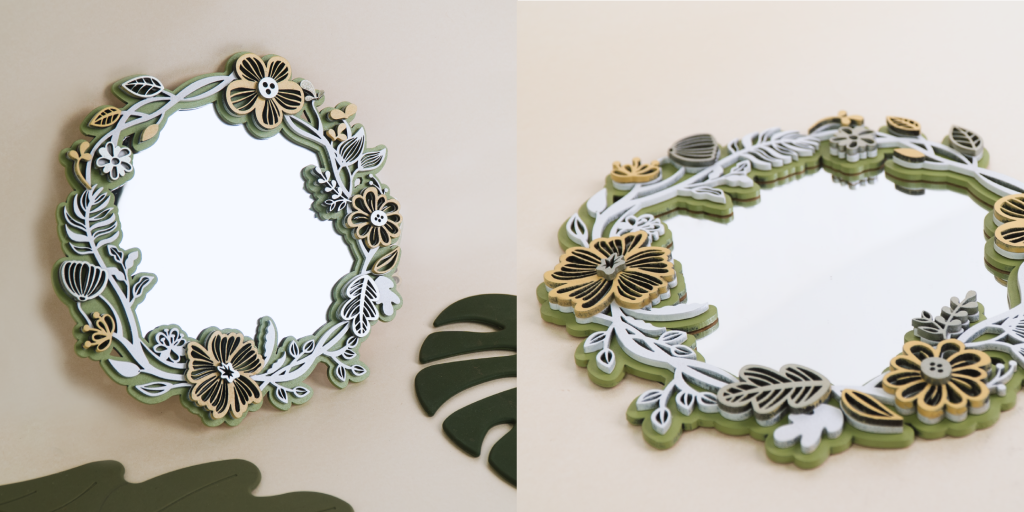 Acrylic Monstera
– This laser cut monstera leaf design can add a tropical touch to your bathroom. The acrylic material gives it a sleek and modern look that can complement any bathroom decor. The monstera leaf is also a symbol of growth and vitality, making it a perfect addition to a space where you start and end your day.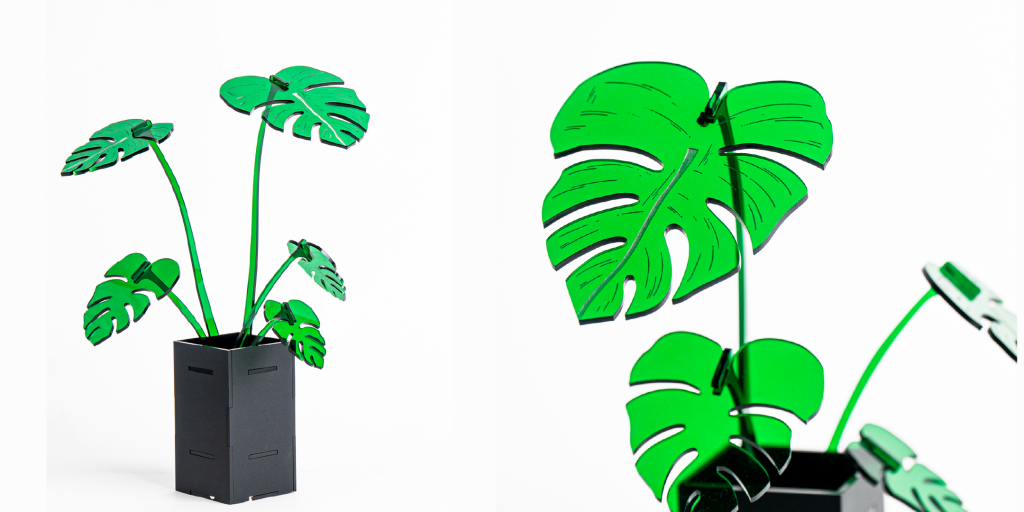 2. Intricate Floral Patterns On Dining Table
Mandala pattern design never gets old, this type of floral pattern
features intricate vines and totems layered together to create a stunning and elegant addition to your dining table.
The complicated details and symmetry of mandala designs create a sense of harmony and balance, making them a perfect addition to any table setting.
Spring Mandala Coaster Set – Featuring intricate patterns of flowers, leaves, and geometric shapes, this Coaster Set is a stunning addition to your spring table setting. These coasters not only protect your table from drink stains but also bring an air of elegance and sophistication to your dining experience.
Mandala Storage Box – Intricate laser-cut mandala patterns are a stunning addition to any dining table, bringing elegance and sophistication to your meals. This exquisitely designed storage box features intricate mandala patterns on it's lid and sides, providing a stylish and practical way to store paper napkins, creamer, or sugar bags.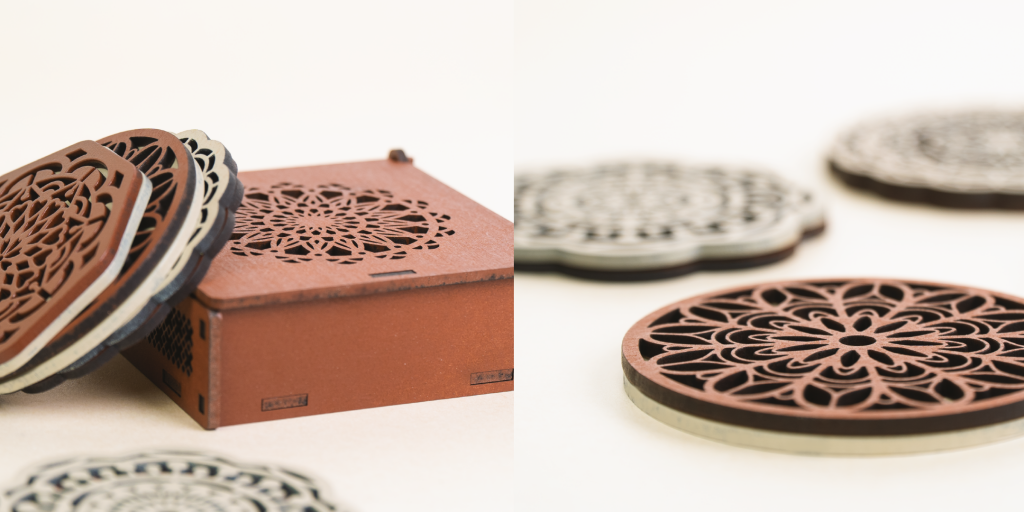 3. Decorate your working space with Easter Bunnies
Looking to spruce up your working space? With Easter approaching, why not infuse some festive cheer into your desk by incorporating charming Easter bunny laser cut designs
Easter Bunny Layer Paper Cut
– Looking for a way to add some adorable Easter charm to your crafts? Look no further than this adorable paper-cut bunny design. With multi-layers and playful rabbit motifs, these designs are sure to bring a smile to your face and a touch of whimsy to any project. Whether you're creating wall decor or mouse pads these files are the perfect way to hop into the spirit of the spring and brighten your working space.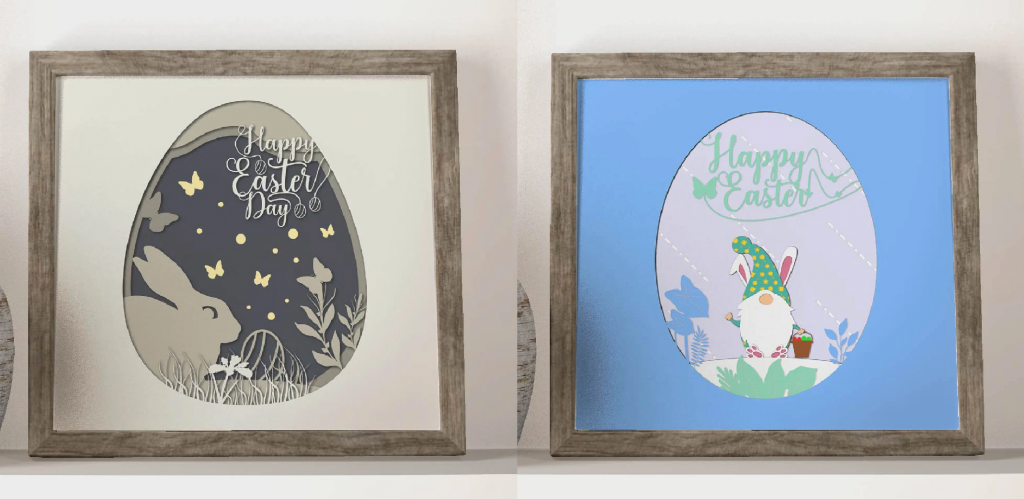 2023 Bunny Monthly Calendar
–  This calendar is the perfect combination of practicality and cuteness. Imagine looking up from your work and being greeted by the sweet face of a bunny, ready to help you keep track of your schedule. And with its precise laser-cut details, this calendar is not only functional but also a work of art. Try combining MDF board and acrylic to laser-cut this calendar and place it on your desk to add a touch of playful sophistication to your working space!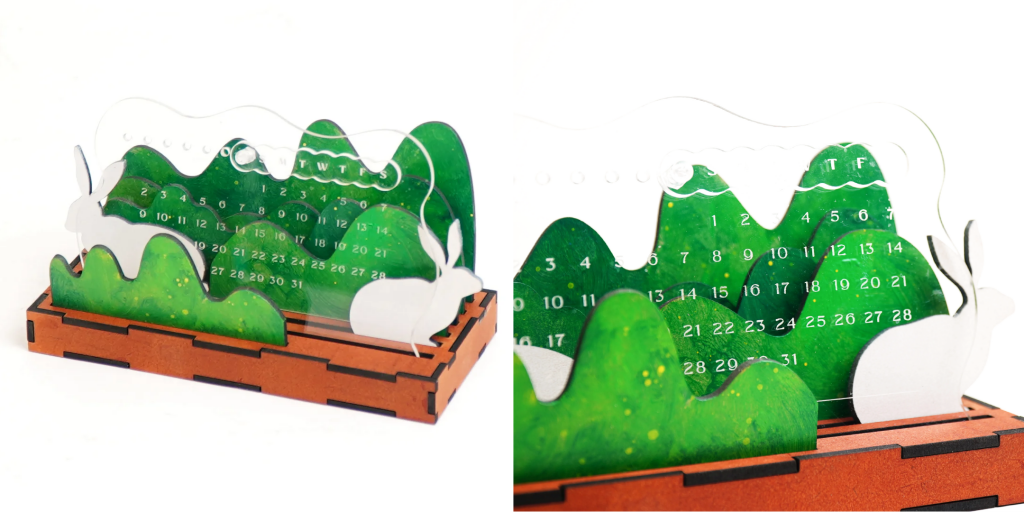 4. Creative Uses for Laser-Cut Storage Boxes
Spring is the perfect season to refresh your living space and create new memories. And what better way to add some charm to your decor than with beautiful and elegant storage boxes? Whether you're looking to store your jewelry, keepsakes, or even everyday items, these laser-cut storage box design ideas are sure to bring a touch of springtime vibe to your space. Let's take a closer look at some of these creative ideas!
Jewellery storage box
– With a delicate floral pattern that is both intricate and stunning, this storage box is perfect for storing rings, bracelets, necklaces, and other jewelry items.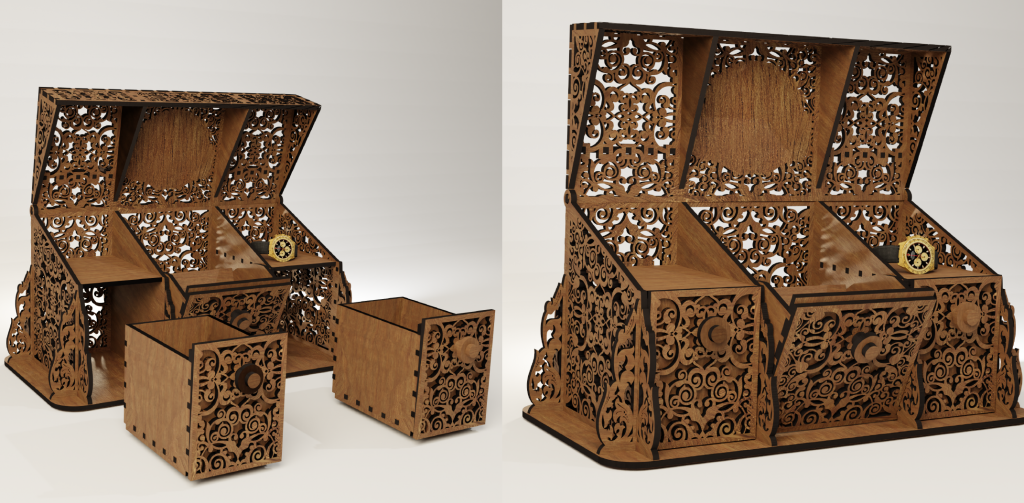 Carved Storage Basket 
– Cut with sturdy MDF board, it is not only durable but also stylish. The natural look of the laser-cut pattern makes the basket versatile and able to blend in with a variety of decor styles. Whether placed in a living room, bedroom, or office, the basket adds a touch of warmth and texture to the space.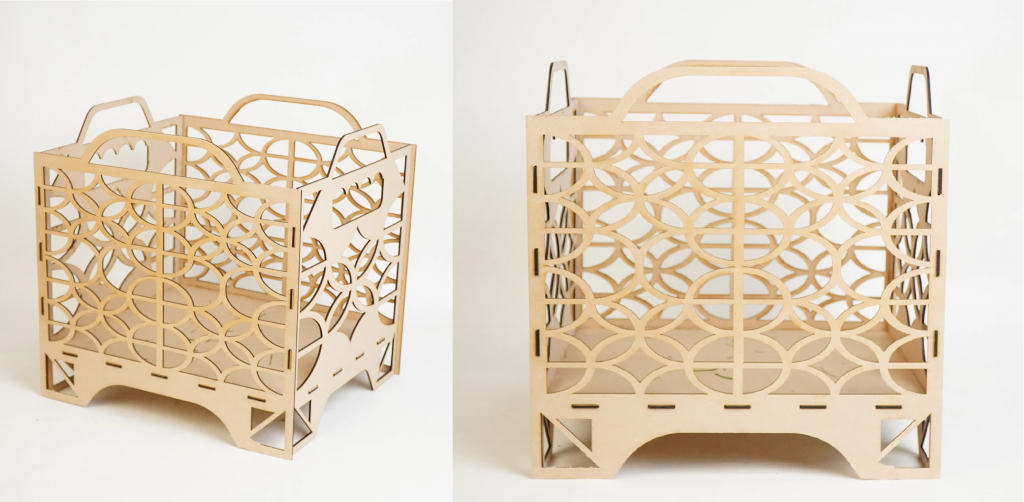 If you're seeking to revitalize your home decor or increase storage space, these spring laser designs provide an abundance of options for unleashing your creativity. From intricate floral designs to playful Easter bunny motifs, these laser designs are ideal for infusing any space with the essence of spring. Moreover, the included design files allow for easy customization, making it simple to tailor these designs to your personal style and preferences. Why not elevate your creative skill this spring with these stimulating laser designs? Head over to
Design Market
for additional ideas on how to add a spring vibe to your decor.