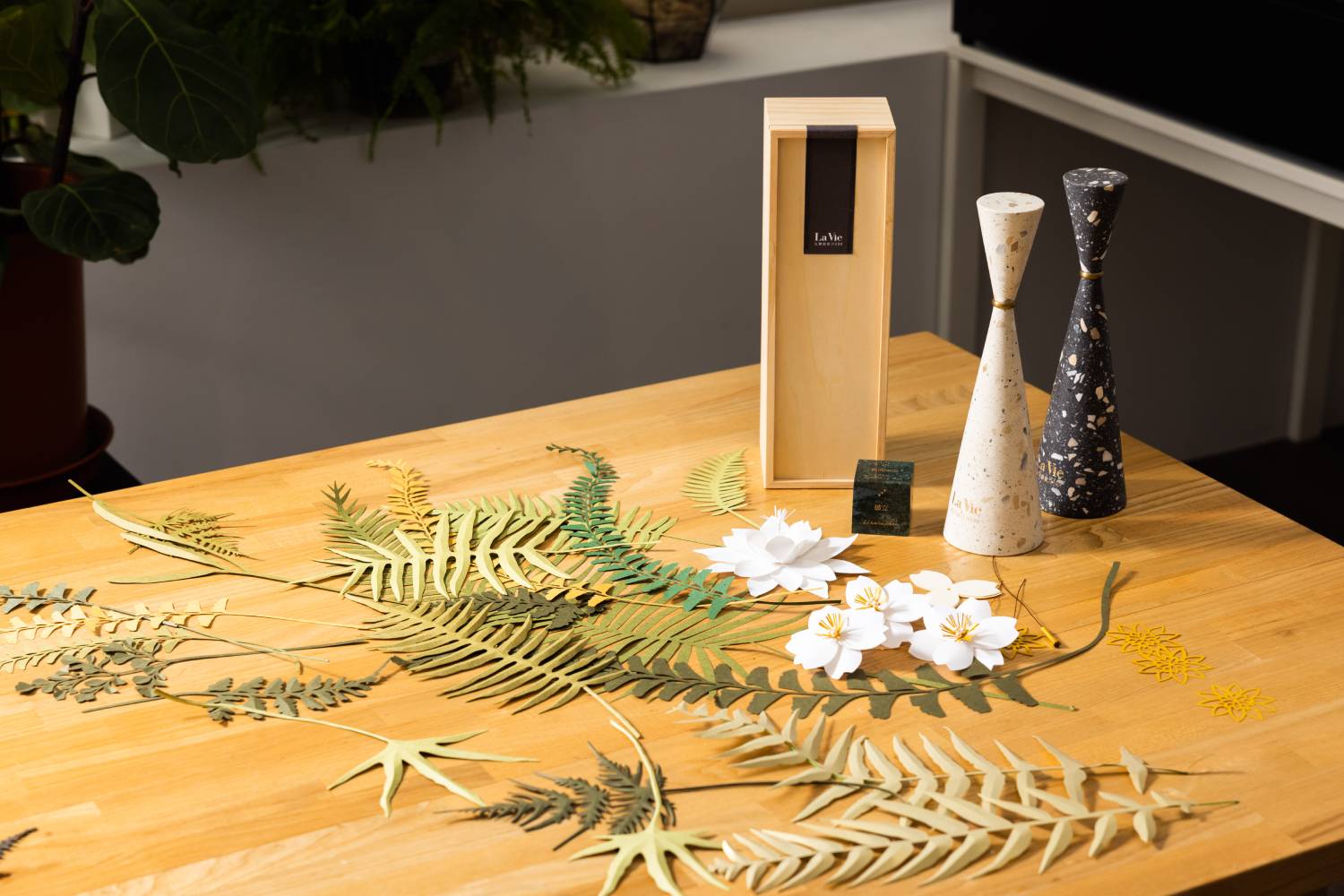 07 Jun

Showcase Your Idea in Paper Crafts
While walking into Studio Shikai Taipei office, sensing art in the atmosphere. The designer Xikai Zeng and paper-cut artist Wuba Yang are familiar with laser cutters for frequently utilize the machine for creations, for instance, Xikai Zeng created the acrylic components in the "Non-Existing Fountain" for the 2021 Taiwan Design Exhibition, and Wuba Yang's paper art parts were used in cross-branding campaigns. With the help of the characteristics of the meticulous laser cutters and free of flash to improve the quality and efficiency of creations.
Coming from an industrial design background, they are still impressed with the hardware and software integration of the FLUX Beambox even though they had used laser engraving/ cutting as a tool for their creations before. The wireless WIFI connection makes creation no longer limited by distance, and combined with the built-in camera, Beam Studio can instantly preview and layer operations, making it more convenient to use.
Fulfill Your Wildest Dreams
" Before designing large-scale equipment, I always make small models for testing. At this time, it is very convenient to have a Beambox desktop laser cutter," said Xikai Zeng. On top of that, the built-in parameters for different materials, make it easier for designers to set up the machine and cut multiple types of paper. In the past, the paper-cut artist Wuba would outsource laser cutting; however, the paper may be contaminated with the toner remains when producing the design products for previous customers, since the laser cutting and engraving machines may be used to cut leather and wood at the same time. Even worse, the manufacturer does not have time for adjustment, leaving scorch marks on the cutting edge of the paper. After having Beambox in the studio, it is much more intuitive to adjust the operation to meet their needs, making the work more delicate.
Finding Art Inspiration Around You!
Wuba Yang ingeniously utilizes laser engraving in the art of paper-cutting, combining highly manual paper-cutting skills with modern digital technology. When creating paper art, the first step is to draw the outlines and scan them into the computer to illustrate the drafts. Next, connect the files to Beambox and cut out multiple paper petals which can be used as creative materials for the workshop. Having this art conversation with Xikai and Wuba in mind, we know that technology and tradition do not stand on the opposite side, they can thrive on each other sometimes, just like when you choose the right and easy-to-use laser cutter, make inspiration at your fingertips and continue the beauty of traditional skills.